1. Hockey is over!! The exclamation points are only because I can now do all the things that I should have been doing when I was watching, going to, or organizing hockey. It is really a rather sad time of year for me. Fortunately, like our summers, it doesn't last long. Derek is attending a camp at Notre Dame (Wilcox) this weekend, and is booked for another camp in Weyburn in July. So I will get my fixes before it all starts again in September!
2. Derek had a grrrreat hockey season, the most fun he's ever had, he says. I guess he's forgotten about the bus trips from hell – on roads that should have been closed in weather that was definitely NOT from hell. But hey, this is Saskatchewan. His team lost out in the provincial and league semi-finals, but that was a pretty good run considering they started without a goalie in October! Derek ended up getting the top defensive player award, as well as MVP. He is a very happy kid. He had great coaches, too.
He was the biggest kid on the team. Heck, he's bigger than the coaches.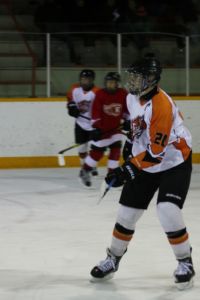 This is his favourite picture – a slapper from the blue line, his signature shot!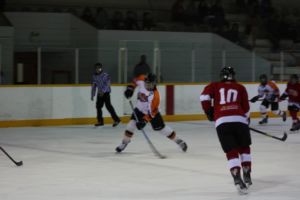 3. The biggest news around here is that Derek has been accepted as a Grade 10 boarding student at Notre Dame, Wilcox for the 2013-2014 school year. It is totally his idea – "Mom, I need to challenge myself and see what I can do" – but I think it's a great idea. We tried to talk him into it last year, but he obviously wasn't ready. Some days I just start crying for no apparent reason; other days I'm planning how to reconfigure his bedroom and doing the happy dance because school lunches are coming to an end! It will be very different, and quiet!, around here, that's for sure!
4. Easter at our place was very much like Christmas – quiet, white, and cold. Terri and the kids made the long trip (she's so crazy brave!), but Mom and Dad decided that the weather and roads were too unpredictable and stayed in Lethbridge. Adam, who has just moved to Saskatoon, brought his hair and joined us for the day. Here's a shot of my baby playing with my brother's babies! Note the abundance of snow outside!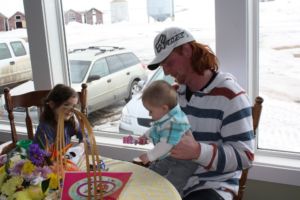 Cousin Eddie is such a wonderful little boy, so happy and content. And he gives the absolutely best baby snuggles! We're so glad he came to visit!
He sat right up at the table with us, and never complained once!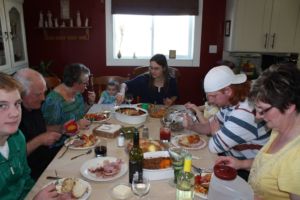 Derek is getting way too cool to hang out with little kids, so Copper has a new favourite "big" cousin!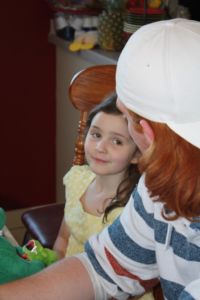 "Hurry up and get that chick going, Gerald!"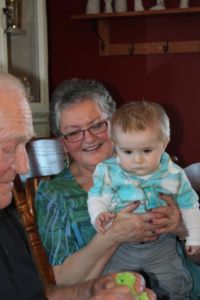 Pure joy! And looking a lot like her momma!
5. Adam and I got to visit with the perogie and his family for his second birthday. Such fun. I took pictures with my phone, and now can't get them to upload here. Of course. Anyway, take it from me, they are cute and we had a great time. And Adam is loving being in the city. A new adventure for him, and it's so nice to see him so happy and excited about life.
6. My baby brother recently got another year older. I'm not telling you how old, cause that's just too depressing for me. I used to change his diaper, for heaven's sake! Here's a shot of him celebrating with his two precious boys. See how cute they are!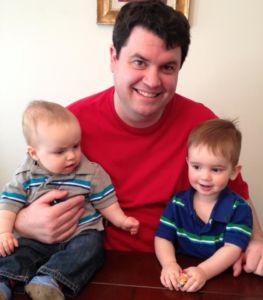 7. I talked Clem into applying for a passport letting me apply for a passport for him. That is huge, let me tell you. There may be hope for a trip for the two of us yet! Babysteps, people, babysteps. I had to renew mine anyway, and Derek needs one for our trip to Ireland and Scotland next spring (yes, he is still able to go even though he'll be in a different school), so I just worked it in there. I'm hoping Derek and I will be able to meet up with our wonderful Scottish friends, David and Lorraine, while we're there. Lisa and I stayed with them on my first trip in 2007.
Thanks for stopping by!
Chandra